"Fate" limited edition print on canvas (50x50cms)
$299.00
Hello dear reader, I invite you to purchase a LIMITED EDITION PRINT of my eighth painting "FATE".
On purchase you will buy this artwork printed on canvas, packaged for protection, and shipped to your chosen destination.
You can read about my inspiration for this painting in the description below; and all the details about this purchase are in the 'Additional Details' tab 🙂
In stock
Description
FATE; painted by PD-Moon in 2023.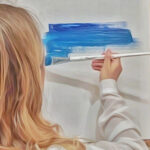 What does fate mean?
I think there is no exact answer here.
Fate is different for everyone.
I painted this picture with my eyes closed, and then added colors with my eyes open. I smeared the oils through the paper. And it turned out quite interesting.
WHEN I LOOKED AT THE PICTURE… I THOUGHT THAT IT WAS A CHOICE OF ACTIONS THAT LED ME TO THIS RESULT.
When I looked at the picture, with a general eye, I thought that it was a choice of actions that led me to this result.
So, my dear friend, you always have a choice. Remember that.
~
«Судьба«
Что значит судьба? Думаю, здесь нет точного ответа.
Судьба для каждого разная.
Я рисовала эту картину с закрытыми глазами, а затем добавила красок с открытыми. Я размазал масло через бумагу. И вышло довольно интересно.
КОГДА Я ПОСМОТРЕЛА НА КАРТИНУ ОБЩИМ ВЗОРОМ, Я ПОДУМАЛА О ТОМ, ЧТО ЭТО БЫЛ ВЫБОР ДЕЙСТВИЙ ЧТО ПРАВИЛО МЕНЯ К ТАКОМУ РЕЗУЛЬТАТУ.
Когда я посмотрела на картину общим взором, я подумала о том, что это был выбор действий что правило меня к такому результату.
Так вот дорогой мой друг, за тобой всегда есть выбор. Помни об этом.
~
~
Imagine: This amazing painting (50x50cms) can be yours, purchased direct from the artist to compliment your home. So buy it now, and add this Painted Moon artwork to your painting investment portfolio.
~
Представьте: эта удивительная картина может стать вашей, купленной непосредственно у художника, чтобы украсить ваш дом. Так что купите его сейчас и добавьте это произведение искусства с нарисованной Луной в свое портфолио инвестиций в живопись.
~
Additional information
Weight
.5 kg
Dimensions
5 × 50 × 50 cm
Limited Edition Prints

You are buying an on-canvas print of an original oil on-canvas painting by PD-Moon.
Limited edition of 300 prints, signed, numbered, and dated by the artist on the rear of the print.

Dimensions

50 x 50 cm (scale 1/1 of the original painting)

What you are buying

* 1 x High resolution, 300 dpi printed on-canvas, print.

* Colour-checked by the artist and guaranteed authentic and true to the original painting's colour.

* Packaged for protection and shipped globally to a destination of your choice.